[Reportage] Work opportunities in New Brunswick and Saskatchewan
Of the 328 exhibitors at this 16th show, almost all came from all over Quebec with a few exceptions.
Visitors could thus meet businesses and organizations that had come especially from the neighboring province of New Brunswick. (new window)and another from distant Saskatchewan (new window). All are looking for employees and promoting life in their territories.
New Brunswick mobilized teams from several organizations such as Opportunities New Brunswick (ONB) or Labor New Brunswick.
They deal, among other things, with helping companies in their labor recruitment process.
Michel Leblanc, media relations officer for Opportunities New Brunswick, explained to Radio Canada International (RCI) the role of his organization and the reason why it is present at the Fair.
Our team helps employers define their workforce needs and take full advantage of the immigration and talent acquisition stream that will best suit their unique needs. We work with our community partners to help newcomers settle and integrate into our communities, while ensuring that as many international students as possible stay in the province or settle here after obtaining their diploma. This is why we are present at the National Job Fair in Montrealhe said by email.
Several sectors are job seekers. These are, he said, cybersecurity, advanced manufacturing, energy innovation, digital health, agricultural technology and information technology.
Eric Mcphee is a labor consultant with Labor New Brunswick. He explains, in an interview with RCI, that when companies need advice on human resources and hiring, we can give them ideas, such as participating in fairs or improving their presence on social networks to make themselves known and attract employees.
Although he is not a recruiter, he can tout New Brunswick businesses to visitors. If a person comes forward, they can be told, based on their resume, that there are jobs available in their industry. And we direct him to the government website. And of course, if I know, through my network, a potential employer, I can indicate to this person where they can apply and I try to establish contact, but I am not a recruiterhe adds.
According to him, several sectors are priorities in terms of recruitment. These are technology, health, education, forestry and agriculture.
Other sectors are also recruiting in New Brunswick, but these are the areas everyone is focusing on.
It's a bit like the rest of Canada. All businesses need employees. And we try to meet those needs as much as possible.
For the latter, New Brunswick is trying to meet the labor demand through natural population growth and immigration.
Timouzgha and Fethi, who preferred not to give their surnames, were present at the National Job Fair. They have visitor status in Canada which does not allow them to work.
Fethi has experience in Algeria in the banking sector. His wife Timouzgha is a specialist in natural risk and the environment.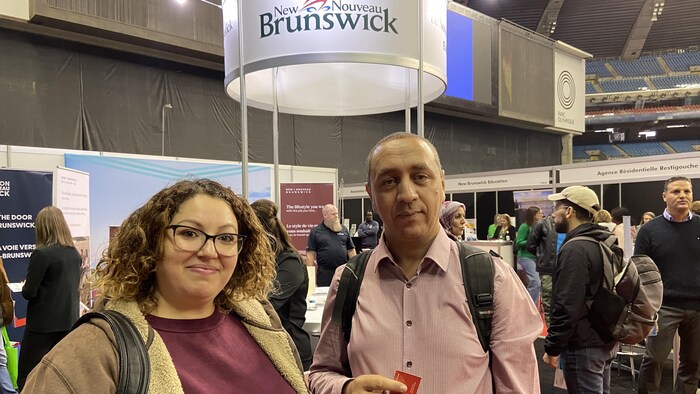 Fethi explains that the managers of the New Brunswick stand have offered them to come to their province, but they require that we have a work permit in Canada.
However, according to his wife Timouzgha, they have until April 2023 to change status. If they receive a job offer supported by a Labor Market Impact Assessment (LMIA) that will be presented by the employer, they can have a work permit.
Indeed, during the pandemic, the federal government launched an option to allow applicants who have a visitor visa to change their status.
The key to benefiting from Opportunities New Brunswick's immigration programs is getting a job offer. From there, ONB approves the request. The candidate then applies to the federal government for a work permit.
For people living in Quebec with visitor status who want to work in New Brunswick, after receiving a job offer from a New Brunswick employer, the province can support applicants through the New Brunswick Skilled Workers or the Atlantic Immigration Program. If selected, applicants will receive a letter of support for a work permit and permanent residency.
Steven Therrien is Regional Integration Coordinator with the 3+ Economic Development Corporation. A regional economic development organization for the municipalities of Dieppe, Moncton and Riverview.
We promote the region and we have employers who submit jobs for which they are looking for candidates. We come here to promote these opportunities he explains in an interview with RCI who met him in his stand at the National Job Fair.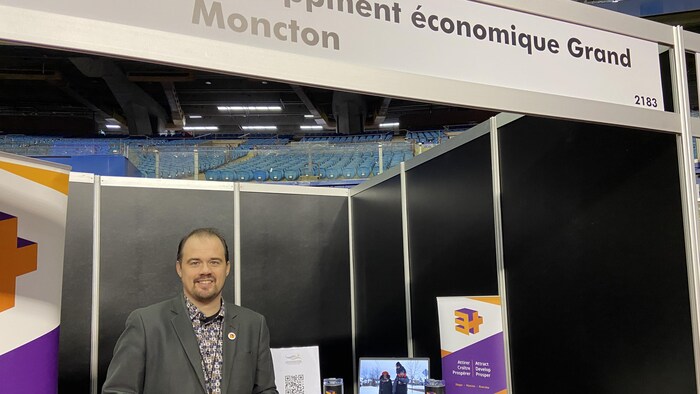 In his region, three job categories are looking for candidates. The health sector, we have two hospitals: one Anglophone and the other Francophone, which have a lot of positions to fill. We also have offers in technology and telecommunications and call centershe says.
Steven Therrien's role is to help candidates settle into the community.
Someone who has found a job in Moncton and wants to move, but his spouse is looking for a job. My role is to help the latter to find a job as well.
How do you convince a candidate to come to New Brunswick? He replies thatthere is no traffic in the Moncton area. Five minutes is heavy traffic. This is important, because There is work and also after work. We spend 8 hours at work, but after that we have our lives to live.
It focuses on the living conditions in the region which are extraordinary. We have breathtaking beaches, forests, parks. And the cost of living is not very high.
Regarding proficiency in both official languages, since New Brunswick is a bilingual province, he explains that Moncton, there are just as many jobs for unilingual anglophones or unilingual francophones. If you are bilingual, it is certainly an advantage to find a job in both languages.
In New Brunswick, 30% of the population is French-speaking and 69% English-speaking, according to the Statistics Canada census in 2021.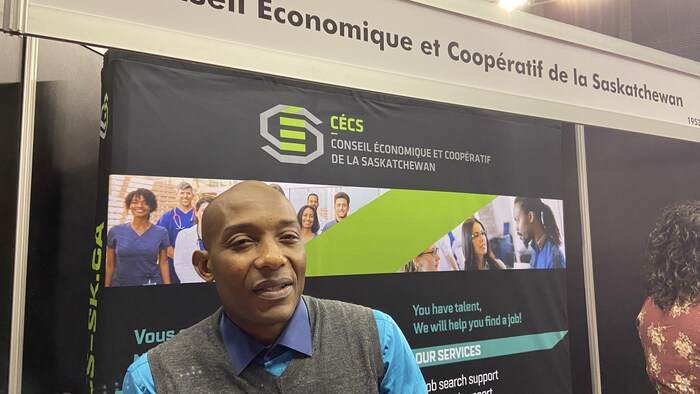 Saskatchewan
The 1953 National Job Fair booth was occupied by the Economic and Cooperative Council of Saskatchewan (CECS), a Francophone economic and community development organizationas explained in an interview with RCI, Papi Tshiswaka, project coordinator for this organization.
We came to represent Saskatchewan through our organization. We came to seek and interest Quebecers, the world and all of Canada to come and work in Saskatchewan.
The economy is doing so well that I can say that all sectors are looking for employeeshe said.
After the COVID-19 pandemic crisis, many employers across the country are looking for people to work. Everyone is in labor search modehe adds.
Three sectors have pressing needs for workers: agriculture, oil and mining. There is also the field of information technology.
Anyone with a work permit is welcome. The majority of people in this living room are immigrants. A clientele that his organization also serves for employability.
How do you convince people who have immigrated to Canada to come and settle in Saskatchewan? he explains thatthere are associations that deal with reception. They can find accommodation for them before their arrival. And as soon as they arrive at the airport, they can pick them up and drive them to his house.
These candidates can work in French, but the majority of jobs are in English. Saskatchewan is an English-speaking province he nuances.
We had people interested during the fair and we hope they will take the steplaunches Papi Tshiswaka who himself immigrated to Canada 16 years ago from the Democratic Republic of Congo.
Generally, people hesitate, just because they are afraid of the unknown.he concludes.
Note: this report is also available in Arabic.